In October this year I visited Syd Beck's Military Museum at Mareeba (50+ km from Cairns), Queensland. Apart from a great assortment of aircraft, military vehicles, engines, and artefacts from WWII, the collection includes Bankstown-built Vampire F.30, A79-89.
A79-89, c/n 4025, was built as an F.30, and being amongst the first 29 aircraft built at Bankstown, remained in the Mk.30 configuration into retirement. Having been received by the RAAF on 4th May, 1951, the aircraft served with 78 Wing, 2 OTU (for at least 3 periods over its 6 active years) , and ARDU. In early November 1955, the aircraft experienced a belly landing at Williamtown, NSW, after a flat tyre prevented the starboard gear from lowering. In the first half of 1956, the aircraft was fitted with an ejection seat at DHA, Bankstown. Like the other F.30 Vampires, A79-89 was retired from active service in 1957, and was received at Tocumwal, NSW, in September of that year. In August 1960, '89 was received at the RSTT at Wagga, NSW, and allocated the Vampire instructional airframe number '11'.
Syd told me how he purchased the aircraft from a scrap yard in Brisbane. The yard owners were going to assemble the aircraft and locate the aircraft as a prominent promotion for the business. The fuselage had always been stored inside, but the wings were stored outside. Since then, Syd has assembled the aircraft and always kept it under cover. The aircraft is generally in good condition, but is missing many small components, such as the pitot tube and its mount.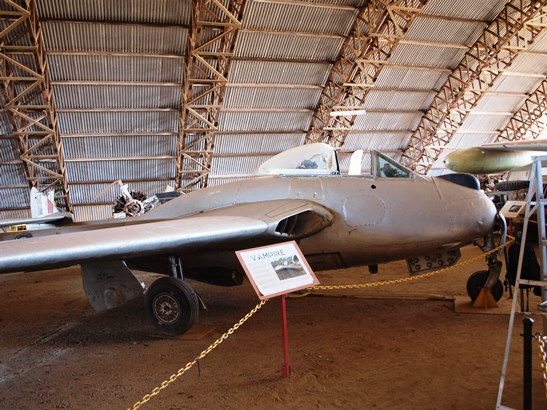 In the background of the photograph, you can see some of the structure of the igloo hangar. This WWII hangar was originally in Townsville where Syd and his family used to be located. He brought it up to Mareeba and has extensively refurbished the structure guaranteeing its future for at least a few more decades.