WANTS LIST – Help needed to progress work on Vampire FB.9 R1382 and Vampire FB.31s A79-733 and A79-175, and DH.108 TG283 replica instrument panels.
Detailed lists of WANTS and TRADE ITEMS – these are only an initial pass and will keep growing (for some time!). There are further notes below on priority items – scroll down!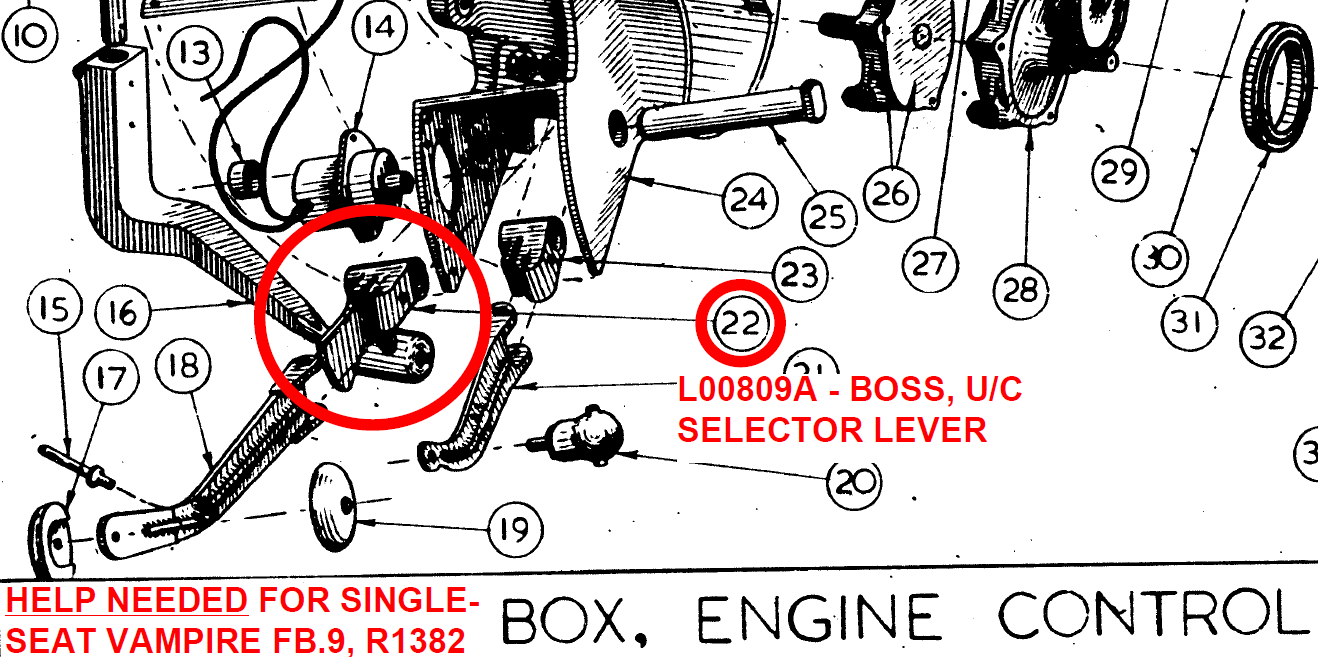 DH.100 (single-seat) Vampire control box components – especially the undercarriage retraction lever link fitting for the push rod: part number L00809, UC Lever Boss – see picture above, and below for more details
DH.100 (single-seat) Vampire canopy rails A001675 & A001676
DH.100 (single-seat) Vampire inflatable canopy seal 12FC89A or A005177A 
Vampire FB.31 schedule of spare parts (IPB). I have Vocabulary of Spares, Group "A", Sectn. 79 – AAP No.2 for the F.30 only – this is an initial issue document – no AL
CAC Nene 2-VH engine or parts – anything considered!
Any Vampire F.30/FB.31 parts
Cockpit instruments

Cabin Pressure – 6A/1749 or G6A/3666
G-meter – G6A/3451 Eclipse Pioneer B.6; isolator mounting parts also needed
WANTED: Engine Control Box component L00809, UC Lever Boss
The part connects the selector lever to the rod that actuates the hydraulic valve to lower/raise the undercarriage. There are 3 rods running parallel. The other two are for the flaps and the speed brake. It seems a case of abuse; too many people taking a sticky-beak in the cockpit, and standing on the rods to get in and out.
For three aircraft (R1382, A79-733 & A79-175) we have four of these parts with a broken lug!
Although the control boxes for the single-seater and trainer are very different, this particular part is the same. I don't know if the part is common to any of the Venom control boxes.
See the pictures below.